Bolles Walks Off In Ninth To Win Class 5A Championship
Winning a state championship is never easy, and the two finalists in the Class 5A title game know that as well as any. With a combined 12 state championships between Bolles and Monsignor Pace coming into Thursday's state championship at jetBlue Park in Fort Myers, it came as no surprise that it took extra innings to decide a victor. Each side refused to bend, with the lone run of the night making all the difference for a walk-off 1-0 victory for Bolles in the bottom of the ninth inning.
With one out and two runners in scoring position, Nate Skinner dropped down a suicide-squeeze bunt that left the defense with no play and allowed Hamp Skinner to advance from third and score the winning run. Hamp led off the ninth by reaching on error, then moved to third base when Austin Henson followed with a single.
The Bulldogs (28-3) claimed their seventh state championship, the last one coming during the 2010 season.
Bolles struggled for much offense against Spartans starter Manuel Rodriguez, who went the distance in the loss. The Bulldogs managed just four hits overall, half of them coming in the final inning. Leadoff hitter Bryce Newman reached base four times, as he had a single, reached on a fielder's choice and was hit by a pitch twice. Austin Henson also had a big day, going 2-for-3 with a walk.
Rodriguez managed to cocntinually work out of trouble, as he delivered a gritty and emotional complete-game performance for the Spartans (27-5). The southpaw allowed just four hits and three walks in just over eight innings of work, while picking up seven strikeouts.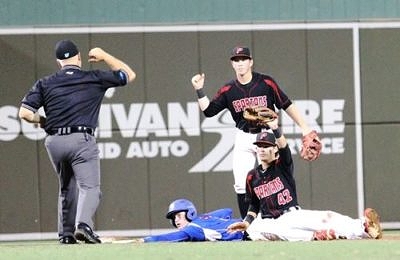 Right-handed side-armer Max Ferguson picked up the victory for Bolles. Although Ferguson ran into trouble in both of his innings of work, he was able to wriggle his way through it to keep the Spartans off the scoreboard. Pace put two runners on in the eighth, before a flyout to center ended the threat. In the ninth they again put two runners on, but were finished off on a grounder to third base.
"You've got to make your own destiny," Spartans manager Tom Duffin said. "I was trying to manufacture runs, trying to steal and double-steal. The more I waited around the more I saw it wasn't going to happen. We had six hits and the approaches were better, but we just couldn't get that one big one. All it took was one hop and that is the game of baseball. That's what they put their whole life into. It just comes down to clutching-up at the end, and unfortunately we weren't there."
Left-hander Hamp Skinner delivered a strong start for the Bulldogs, holding Pace scoreless for seven full innings on 109 pitches. The southpaw scattered six hits and four walks and recorded seven strikeouts.