Bolles Wins Second Straight 5A State Championship
Photo Gallery
Coming to the state tournament with a target on your back is not an enviable position. Yet the 2017 Bolles Bulldogs arrived as such, as the defending state champions. But they weathered the pressure and defended its title, and the team that arrived as champions also got to leave as champions.
Behind a strong offensive outburst that staked the club to a huge lead in the first inning, Bolles rolled to a 7-2 win over Bishop Moore to win Thursday's 5A state championship at Hammond Stadium in Fort Myers. It is the team's second straight title and eighth overall in program history.
"It's awesome to be able to experience playing in the Final Four. Winning it two years in a row is just outstanding," Bolles manager Mike Boswell said. "It's fun to be a part of these guy's lives everyday, and all the hard work they have put in has paid off. I've been a part of five titles at Bolles, and it's pretty special. We've got a great group of young guys and we only graduate four guys from this year's team, so we've got a lot of guys with experience coming back. So the bar is going to be set high for these guys."
The Bulldogs attacked with their bats right away to take a commanding lead in the top of the first. Max Ferguson led off with a double to right, Austin Knight was hit by a pitch and Clemente Inclan dropped down a great bunt and reached with a base hit that loaded up the bags. Hunter Barco put this team on the scoreboard with a fly ball deep to center field that allowed Ferguson to tag up and score for a sac-fly RBI. Mac Forrester then sent a liner past the shortstop to plate a pair and Bryson Kirksey followed with a bouncer past second for a two-RBI single and a 5-0 advantage that also chased Bishop Moore's starter from the game.
"Once you go down in a game like that, they felt the pressure to come back," Boswell said. "Nate Skinner went out and pitched with the lead early and just dominated the strike zone. It's tough to come back when you get down like that and it was great to see that with the back of our lineup coming through."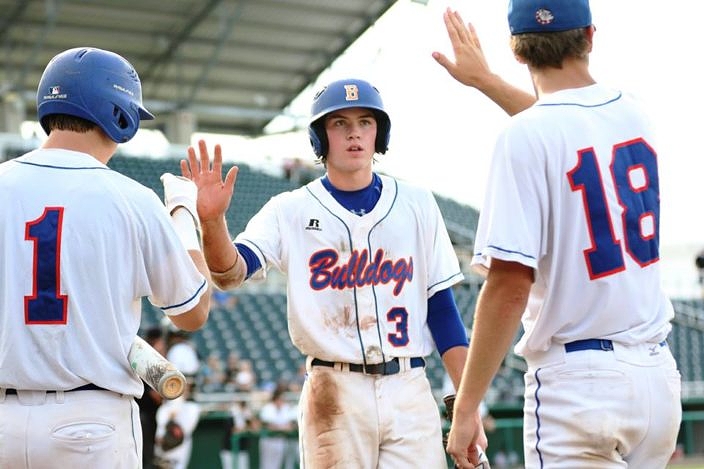 Bolles tacked on another run in the third. Brendan O'Neil singled past the shortstop, Nate Skinner sent a base hit to left field and Forrester walked to load the bases. Russell Libby then reached on an error that allowed O'Neil to score and increase it to a 6-0 lead.
The lead gave Bulldogs starter Nathan Skinner all the comfort he could need. Since Skinner is a contact pitcher, the early offense made it that much easier to pitch to contact and let his defense make the plays behind him. The right-hander did his part by going the distance on the mound, allowing two earned runs on five hits while recording seven strikeouts without allowing any walks.
"It definitely helps having those five runs out of the way," Skinner said. "Once we had the lead I just had to go in and throw strikes. That was my main goal was just to throw strikes and get some outs."
The Hornets answered back to get on the scoreboard in the bottom of the fourth. Kyle Mock got it started with a two-out single to center, and then came all the way around to score when Fabian Escalante crushed a shot deep into the right-center field gap for an RBI triple. Connor Scheitzach followed with a shot deep to left field for an RBI double.
Bolles added to its lead in the top of the sixth. Ferguson and Inclan both walked, and a fielder's choice on an infield grounder erased Inclan advancing to second before the relay throw sailed high to allow Ferguson to round third base and scored standing up.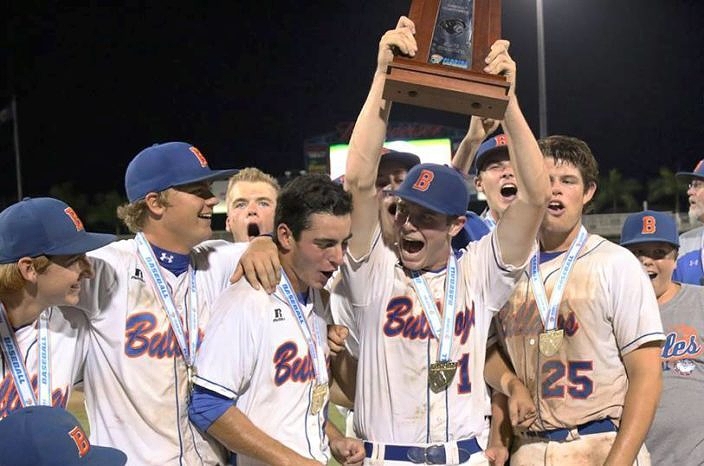 The Bolles coaching staff is a large and crucial piece of the program. With a total of seven assistant coaches on staff, Boswell admits that it is very helpful that they have so many top-notch coaches working together as one unit. The coaches all communicate great together, they all like each other and they have developed a perfect relationship with the players that trust them and follow their guidance perfectly.
Over the course of the two games in the Final Four, the Bolles coaching staff worked together to assist the players with every aspect of the experience. Guys were prepared for everything, they were instructed how to make the necessary adjustments, and the end results spoke for themselves.
"I appreciate it, because you get a lot more individual work," Mac Forrester said of the large coaching staff the players all enjoy at Bolles. "A lot of times when you have limited amount of coaches, you don't get as many reps at your position. I'm an outfielder and I really appreciate having an individual coach who works with me about angles and jumps and everything. It's a valuable part of the team."