Trinity Christian Drops 4A Semifinal To Heritage
If one thing is certain in this American Heritage season, it is that they have found, at least for one year, the secret to success.
Using another dominant pitching performance by Nelson Berkwich, and an offense that erupted for nine runs, the Stallions pulled away from the Trinity Christian Conquerors in a 9-0 4A state semifinal win, at Hammond Stadium in Fort Myers.
"It has been our recipe for success, what we have been doing all year," said Berkwich. "The offense gets us runs early, and then our pitching takes over from there. Excepte today, the offense kept scoring."
Kept scoring they did, and it started early. In the bottom of the first, the Stallions put up two runs. Stanley Demartinis was hit by a pitch, and scored on a Carmine Lane double. Lane then was driven home on a single by Steven Andrews.
"Those two runs in the first were big for us," said Heritage Manager Carm Mazza. "That allowed us to settle into the game and let Nellie do his thing on the mound."
Berkwich, who was the starting pitcher as a freshman in a previous Heritage appearance, made sure this game would be different. The junior lefty threw a complete game, striking out nine and walking only one. He gave up three hits on the day.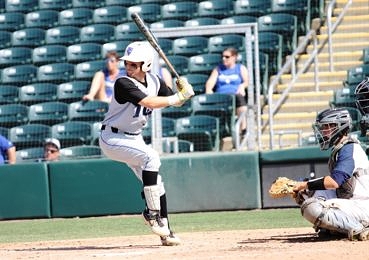 The Stallions had hits in the game from seven of their nine starters. Andrews, Ryan Bruno, Chris Ferara, and Dylan King all had two hits, and Lane added three of his own. It was a complete offensive performance, and one that Berkwich says sometimes gets lost when speaking out this year's Stallions.
"We came into this year with the reputation of being strong on the mound, but not having a big offense," said Berkwich. "But now, our offense is just as good as our pitching, and we are putting it all together."
For Lane, who will get the ball in the state final game tomorrow, the offense did what it had to in order to win.
"We just want to win," said Lane. "It felt good to hit the ball the way we did today and for everyone to get involved. We are focused on doing the same thing tomorrow."
For Mazza, a win Saturday night would bring him his first state title, but he insists the focus is not on himself.
"I want to win, of course," said Mazza. "But I want to win for these guys. It is about the players, and these guys have worked so hard. I want to see them finish it off."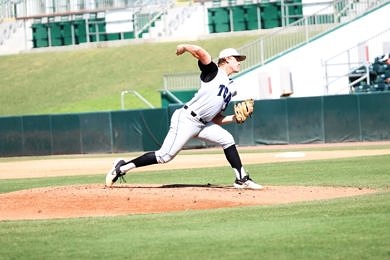 To which Berkwich replied, "We want to win for coach also, cause he is getting old."
Mazza has managed at Heritage-Delray for over two decades.
For Trinity Christian, the loss is bittersweet, as the team closes the season 22-10-1.
"We schedule how we do during the year to prepare us for this," said Conquerors Manager Gil Morales. "We knew that these three other teams were among the best in the state, and Berkwich threw a great game against us today. We were prepared, but today just wasn't our day. They were the better team today, and they beat us."