Clay Closes Special Regular Season With Senior Night Win
The Clay Way is a special thing.
Thursday night, that aura was on full display as the Clay Blue Devils hosted the Keystone Heights Indians for their Senior Night game. With a stadium full of alumni and fans who are all a part of the Clay family, the Blue Devils capped the big night with a thrilling 7-3 victory.
Clay sends its six seniors off winners in their final home game, to cap off a regular season that is as memorable as any. The Blue Devils (19-4) are the #1 ranked team in the Jacksonville Power Rankings, with wins over many of the areas top ball clubs. The team had its share of thrilling wins, such as a wild, eight-inning, 14-11 comeback over the Suwannee Bulldogs, and big wins over St. John's Country Day and Santa Fe. The Blue Devils hold the #1 seed in a very tough district, meaning they control their own fate as they set their sights on adding many more chapters to this season's story.
"I don't know what it is, but something exciting always happens on Senior Night," Clay Manager Josh Persinger said. "There were about 20 alumni parents from the 2018 year that we went to states. It felt right again. It has been a tough year for everybody, but for two hours it was like nothing crazy in the world is going on, and it was fun."
No matter the road ahead, Thursday night will forever be one to remember. Clay alumni packed the stands and even the dugouts, and former Manager Dale Westmoreland threw out first pitch to celebrate 40 years since the first Clay High district championship. Every member of the coaching staff is also a Clay alum, and tradition was also upheld in holding the game against the Indians once again.
"For over fifteen years we have celebrated senior night together, taking turns each year feeding the seniors for a pregame meal," Persinger said. "Coach Alan Mattox is one of the greatest coaches around, not only as what he does on the field, but what he's done for the game of baseball and hundreds of young men."
After being fed and honored, the Blue Devils returned the favor with another night of quality baseball. They broke a scoreless game with three runs in the third, then tallied the deciding run an inning later. Every starter in the lineup reached base to contribute, and four pitchers combined to hold the Indians (13-12) to two earned runs. It was the sort of team effort that is the staple of Clay Baseball.
The first two batters reached base in the third to get things going, as Blake Parker was hit by a pitch and Richie Long walked. Max Williams then sent an RBI single to right field to get Clay on the scoreboard. Brady Greene dropped a sacrifice bunt to advance the runners, and Logan Wilson executed a squeeze bunt that successfully plated Long. Wyatt Root then reached on an error that allowed another run to score.
"I don't know if I've bunted with my three-hole hitter all year," Persinger admitted. "Traditionally that is not something that I would do, but I want them to understand and know that when we get to a game the only thing that matters is the win/loss column. I literally bunted my three, four and five hitters, and we squeezed in the run with my four-hole hitter. Those are cases where we normally wouldn't, but sometimes as coaches we forget that we also need our practice. I've got to feel confident when I call the squeeze or a bunt too."
Keystone Heights answered back with a run in the fourth to get on the board. Conner Guy reached on an error and Ty Glenn and Dalton Hollingsworth connected for back-to-back singles that loaded the bases. Carson Williams then came through with an RBI single to right on a 1-2 count that drove in Guy, and two batters later, Mike Moreland returned the favor with an RBI squeeze bunt that made it a 3-2 deficit.
Clay responded right away with the winning run in the bottom of the fourth. Steven Reiss led off with a double to left and then advanced to third thanks to a sac bunt from Ben Creswell. Parker then got the ball on the ground for an RBI ground out.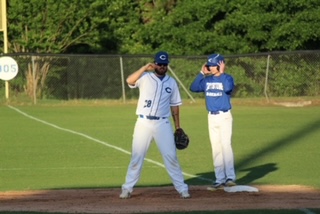 An inning later, the Blue Devils tacked on two more runs to add some cushion. Root walked and was replaced on the bases by courtesy-runner Ethan Escher, who promptly swiped second base. An RBI single from Reiss then sent him around third and across the plate, and Reiss followed him in on an RBI base hit from Parker.
Connor Chapman also scored again on a passed ball an inning later.
The Indians got one more run back in the seventh to keep fighting until the end. Carson Osteen connected for a one-out double and Guy sent him home with an RBI double to left.
Clay reliever Mason Barrett then got a called third strike to close out the contest. Now the only thing left to focus on is the playoffs, where the Blue Devils go in as a favorite.
"We are the #1 team in 4A, but at this point rankings don't matter," Persinger said. "Come Tuesday, none of that matters. But I want them to enjoy it. I don't know when I took over seven years ago that I ever envisioned this. The goal is to win a state championship, but to play the schedule that we do and finish up the regular season as the best team in 4A feels a little different. You don't ever really think that would happen."