First Academy Holds Off Bolles In 2-1 State Semifinal Win
Photo Gallery
The First Academy Royals delivered an inspired performance to earn a 2-1 victory over the Bolles Bulldogs in Monday's Class 3A state semifinal at Hammond Stadium in Fort Myers. The Royals scored both runs early on and then held off the feisty Bulldogs the rest of the way to advance to Tuesday's state championship.
First Academy (29-1) will face the Westminster Christian Warriors in Tuesday's state championship. The Warriors (23-7) advanced with a 3-0 win over the John Carroll Rams in Monday's other 3A semifinal.
"Tough one. They just outplayed us today," Bolles Manager Mike Boswell said. "We were one run short, but I couldn't be more proud of my team and the way they played and fought all year. We've got a great bunch of seniors and we'll miss them all. Our guys fought all year, and I knew that they would fight to the end, and that was exactly what we did."
The Royals are competing in the state final for the first time in program history. The team won its first state semifinal game ever, after reaching the Final Four just once before back in 1997.
Facing off against an established yearly contender in the Bulldogs (25-5), First Academy came out aggressive on offense. Players attacked the pitches and did not let quality offerings go by, and once on base they were just as aggressive in running the bases and adding more pressure.
"We talked a lot about it. We just wanted to come in and play under control and relaxed and do what we've been doing all year," Grove said. "We had an approach at the plate where we knew we were going to try and attack fastballs. We knew were going to see a possible First or Second Round MLB pick out there today, and he did a great job."
Facing Bolles senior ace Jackson Baumeister, hits were at a premium. The Royals got to him early in scoring both runs in the bottom of the second, before the senior right-hander settled in and held the rope with four scoreless frames that kept his team in it to the very end. Baumeister struck out 10, while allowing two unearned runs on six hits and a walk.
"Early on, I didn't have a lot of my offspeed stuff," Baumeister said. "I was struggling a little bit with the secondary pitch command, and they were kind of sitting on the fastball. They were able to get a couple of hits off of it and were able to score the two runs early. Later in the game I started to have more feel for the pitches, the curveball and the changeup, and I was able to get out of some jams late in the game. I just couldn't get it done today."
First Academy's Trent Kelly reached base off an error with one out in the second to start the scoring rally. Baumeister responded with a strikeout, but then Jayden Bastian was hit by a pitch and a wild pitch followed that advanced both base runners into scoring position. Greg Pettay drove a base hit into left field to drive in both base runners for the 2-0 lead.
The sample of run support proved to be enough for Royals starter Isaac Sewell, who went the distance on the mound to earn the victory. Sewell scattered five hits and three walks, while striking out seven. The early run support helped him settle in and go the distance for his sixth complete game of the season.
The Bulldogs began to string together at bats late in the ball game. Tanner Zellem led off the top of the sixth inning by scorching a double to the left field warning track, and Khadin followed by lining an RBI single to right field to cut the deficit in half.
But the Royals defense was there to back their pitcher and minimize the damage. Second baseman Matthew Perez made an incredible leaping catch on a liner, and then he doubled off the runner at first to clean the bases and completely redirect the momentum. The very next play he dove out, snared a grounder and made the throw to record all three outs in the inning himself.
"He had some good at bats. He walked a couple of times and had a big at bat," Boswell said of Zellem. "Then Jaden came up, and he saw the ball good all day. He squared up three baseballs today and had three hits and an RBI. That was big for us. But then the second baseman makes a big play to double us up, and that's baseball."
The Bulldogs threatened one last time with two outs in the seventh, as Burke Steifman singled to center to keep hope alive. But a fly ball to left field fell into the glove for the final out that sparked the Royals celebration.
"I feel like the biggest difference is that when they had runners in scoring position they were able to find the gaps in those situations, and we weren't able to do that," Jaden Flowers said.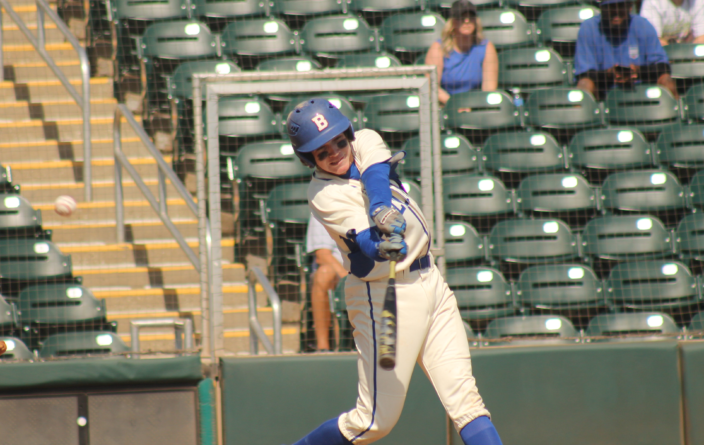 The Bulldogs controlled what they could control, but also had circumstances beyond any control. In the top of the fourth inning, Bolles had two runners on with two outs after Zellem walked and Flowers singled to right field. Freshman Aidan Lynch connected with two outs, but as he started running out of the batter's box he suffered a freak injury and collapsed to the field. What should have gone for a base hit instead was converted into a routine 5-3 putout, due to the runner's inability to reach first base.
"It was unfortunate and scary for a young guy," Boswell said. "We would have had bases loaded in a big situation for us. His hip popped out somehow. But I didn't have to do anything for our team to keep going. We know that it's next man up and they just kept fighting."
Bolles has won multiple state titles and is a regular fixture at the state tournament. Although that dream of adding another trophy was halted a game shy of that chance, the team maintained the high standard it has earned for itself. Even despite losing eight valuable seniors from the roster this year to graduation, a large number of players will return with the experience of this year's playoff run to states to help them in returning back again next season and beyond.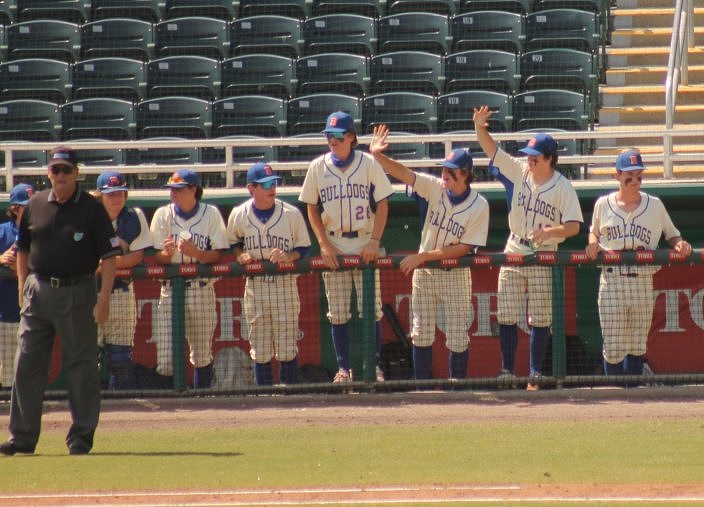 "It starts when they're young," Boswell said. "Each year we have great senior leadership and they know that the ultimate goal is to make it back here. The senior leadership bringing those guys up. Our goal every year is to be here, and our guys fight from the first day of fall workouts to the last day today. They just fight to be here. I've got some great players. I wish it was something that I did, but we have great players who work really hard."