St. John's Country Day Falls 5-3 In 3A State Final
Box Score
Photo Gallery
A historic run came one celebration shy for the St. John's Country Day Spartans on Thursday, as the Out-of-Door Academy Thunder rallied for a 5-3 victory to win the Class 2A state championship. Playing in the state Final Four for the first time in program history, the team settles for the runners up.
"Until they made the last play, I thought we were going to win the game," Spartans Manager Tom Lucas said. "I've been around this team and I've seen Connor Moore hit walk-off home runs, I've seen Jordan Taylor hit balls that nobody can hit. So as a coach, I just wanted one base runner, because we were in a good spot. We had 2,3,4 coming up, and you can't ask for more than that. So I had complete faith that we were going to win 6-5, that we would get two guys on and somebody was going to. We have the type of offense that can score a crooked number in any inning, and just tip your hat to the right-handed guy. We had all of our hits off their lefty, and they brought that guy on in relief and he was very effective. He made some quality pitches and we didn't execute."
Aidan Marino had a two-run home run in the fourth inning that broke a 2-2 tie and accounted for the winning runs. After Philip Fincher singled with one out, Marino battled through a gritty, nine-pitch at bat before he connected on a shot that traveled high and deep over the left field fence.
"It was a tough game. We out-hit them but we just made a few mistakes," Lucas said. "Then you have to tip your cap to a couple of guys at the bottom of the lineup, they were battling with two strikes all day and had a couple of long balls. Our starter did well but he just left a couple of balls up. That is the game of baseball. He left a few up and they made him pay, and they get to celebrate."
An inning later Nolan Lewellen connected for a solo shot to the same location that just stayed fair to tack on an insurance run.
Backed by a lead, the Thunder (24-3) turned to closer Tyler "Iceman" Colditz to close things out. The senior right-hander was up to the task, coming on in relief of starter Josh Cone with two outs in the fifth inning and going the rest of the way. Colditz did not allow any runs in two-and-a-third innings, while recording three strikeouts to lock down the save that cemented the state championship.
"I feel bad for the seniors, who never had the opportunity to win it," junior Jordan Taylor said. "At the same time, we are all happy that we got here and made team history. This year was insane. This team is a brotherhood and we all love each other. We all gutted it out, even this game. We probably got more bunts down in this game than we have all year, so there are highlights of this game. There was good and there was bad, but we still love each other. We have a bond that can't be broken."
Cone delivered a quality start to get the ball to the Iceman. The left-hander allowed two earned runs on eight hits and a walk, and he struck out two in four-and-two-third innings.
No play or moment was bigger than the one made by Thunder third baseman Tanner Fairchild in the top of the third inning. Connor Moore reached on an error and Jordan Taylor followed with a single on a liner to left field, and Connor tagged up and advanced to third off a flyout from James Oman. Tyce Moore then stung a shot down the third base line, where Fairchild made an excellent stabbing grab before next stepping on third base to double off the runner and ending the threat.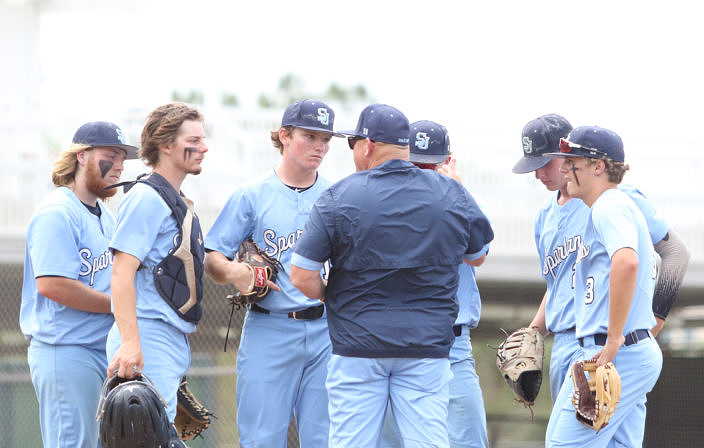 "We had a line drive that was hit right at their third baseman with runners on second and third, and that is probably two runs," Lucas said. "It's a tough game and it's a game of inches, and they made a couple of really good plays, like that one."
Had that ball gotten through, both base runners likely would have scored to put Out-of-Door in a hole. Instead, in seemingly an instant, the inning was over, the threat erased, and all of the momentum the Spartans had just built was transferred over to the opposing dugout.
"It's a huge momentum play," Coach Matthews said. "They were setting up to score against us, and right-place, right-time. That's how baseball works sometimes, and it is just a rush of emotion. The guy hits the ball hard and Tanner makes a great play. It just gets you going and it really was a momentum swing for our team to get back in the dugout and score some runs."
While momentum swings are common in all sports, it is not enough that such an enormous shift occurs so quickly.
"It was a huge emotional switch from almost an defensive to offensive mindset," Matthews said. "You're trying to stop them from scoring runs and all of a sudden you're back in the dugout and we're rearing to score. That is the beautiful thing about baseball. Nolan Naese hits that little ball up the middle to score the second run to tie it, and he barely got a piece of it and it falls in. Then somebody squares up the ball like they did and Tanner gets a double play. That is what makes the game beautiful."
Naese's hit came in the bottom of the second inning, a double that found a gap in center to drive in Fincher and tie the game. Colditz and Fincher both reached on an error to start the frame, and Ryan Kelly supplied a sac-fly RBI to get the Thunder on the scoreboard.
The two runs answered the pair that the Spartans scored to take an early lead. Moore and Taylor both singled with one out in the first, and James Oman then dropped down a sacrifice bunt that drove Moore across the plate. An inning later, courtesy-runner Kyle Boylston scored on a passed ball, after starting pitcher Bradley Hodges was hit by a pitch.
Country Day got one back in the fifth, when Tyce Moore connected for an RBI single on 1-2 count to drive in Jordan Taylor.
"We started in preseason against Ponte Vedra, we were down but we told ourselves this year that at two strikes we were going to associate this hack where we widen out and just put balls in play," Taylor said. "We've been doing good at that all year. We've had down points in our season, but even down to our last strike in the game I still had hope, because I knew what our lineup is capable of. We could have gutted some runs out, but we did all we could."
Although the final result was not what they hoped for, it only slightly diminished the thrill of the 2021 season that the St. John's Country Day Spartans experienced. The club reached new heights just by making it to the state Final Four, the first time in school history.
While the team is losing some key seniors, there are guys who will be expected to step into their place. They will have big shoes to fill, after the 2021 team raised the bar for the entire program.
"They are always going to have a special place in my heart," Lucas said. "They have been valiant and they have bought into everything that we told them to do. For the seniors, they took ownership of this team. What I tell the seniors is that it wasn't just this year. We've got a lot of great players behind them, and now they have set the mark and the standard. I fully expect us to be back next year and I expect the classes after that have got the goal of where they expect to get to. This is the first time we've ever been here as a program, but to me that should be the new norm."