Newman's Gem Leads Bishop Kenny To 4A Finals
The Bishop Kenny Crusaders never really had to worry about a Jefferson comeback with senior left-hander Jack Newman on the mound Friday afternoon.
Newman needed just 93 pitches to get through all seven innings for the Crusaders, pitching effectively to contact during a 4-1 state semfinal win. Starting pitching has been a big strength for Bishop Kenny all year, and that was Newman's fourth complete game of the year.
"I'd say I'm more in there and not trying to strike anyone out," Newman said. "I'm just trying to let them hit the ball to my players. They did that a lot, so that's how I'm able to keep the pitch count low and go more than five innings."
Newman and manager Tommy Edwards knew after the fifth inning that he was going the distance after a three-pitch strikeout in the fifth inning. He came back to the dugout certain that he'd close it out, and Edwards wasn't taking the ball from him at this point in the game.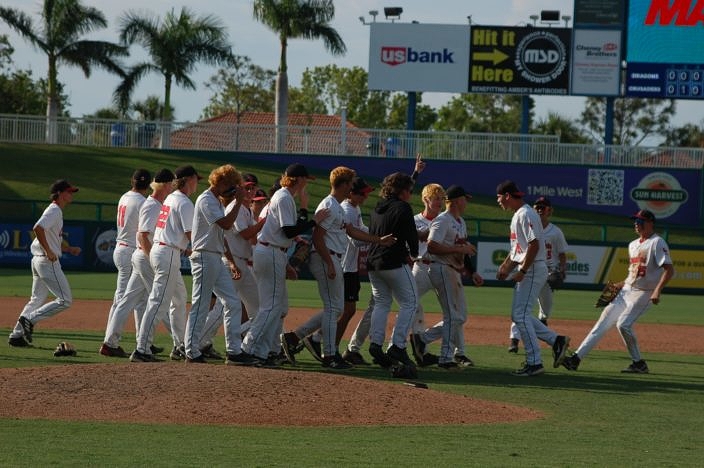 A major turning point in the game came in the bottom of the fourth when a pop-up to the infield fell in front of Jefferson's catcher. A sacrifice bunt moved the free leadoff runner to second, and Andrew McWilliams came up big with a double to make it a 2-0 game.
That would have been enough to win it, but the Crusaders established some security with a two-run single from Trey Seeker three at-bats later. Edwards agreed that the dropped ball on the infield was a turning point in the game simply because it allowed Newman to play even more comfortably.
"It's huge," Edwards said. "And that's kind of what we've been doing these last couple of weeks. We try to get the timely hitting. We've been very good on the mound and we've defended the field pretty well. The timely hitting we've been short on, but next thing you know… when you get a three-plus (lead), you feel pretty good about that situation."
Jefferson responded after going down by four runs. Joseph Fritz drove in a run with a double, but that's all the Dragons' offense could put up on a frustrating day at the plate.
"I felt like I saw the pitcher amazingly since the first pitch of the game," Fritz said. "I thought we had a really good chance against him … We've face pitchers like him before and dominated, but we just couldn't do it today."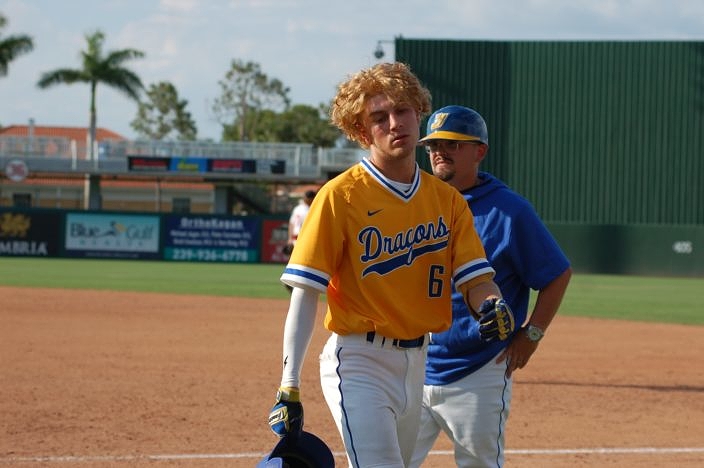 It's a hard loss to swallow for a Jefferson team that believes it had a state championship club. Coaches, players and parents took turns consoling each one another after the game, reminding each other that there is much to be proud of still.
"When you have a group of guys and a group of coaches that want it this bad, it's a tough way to end it," Dragons manager Spencer Nunez said. "These guys, I'm proud of every single one of them. All six coaches. It's just something we'll remember forever."
Some of the seniors were part of the 2021 final four team and coming up short twice in three years stings differently than it does for the others who might get another chance at redemption. Still, the upperclassmen have left quite the legacy at Jefferson, and those lessons aren't going to be lost anytime soon.
"The reason this group is special is because they bought in from Day 1," Nunez said. "When kids do that, we have to look at ourselves and realize we are changing the culture."
Bishop Kenny will play North Marion for the FHSAA Class 4A State Championship on Saturday at 5 p.m.
"(The confidence level) is elevated," Edwards said. "We feel really good coming into tomorrow with what we got. We'll obviously sit down and talk about things, but we're confident. We feel really good where we're at, and we can do some things."