St. John's Country Day Ends 2023 As Class 2A Runner-Up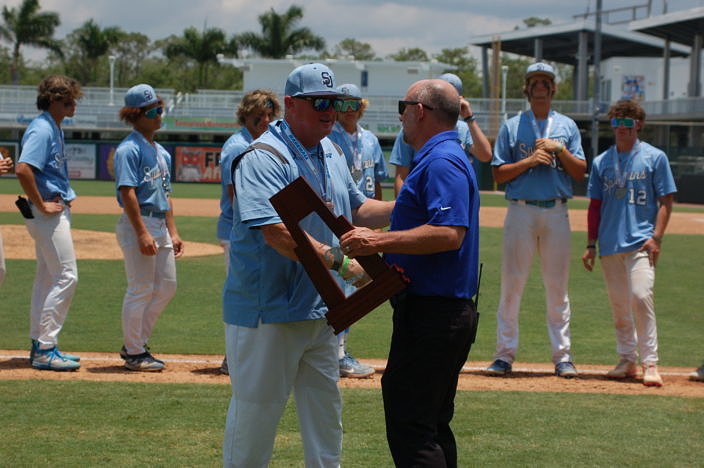 A four-run outburst in the first inning was all the offense the Lakeland Christian Vikings needed to take down the St. John's Country Day Spartans,5-2, in the FHSAA Class 2A State Championship Game on Saturday.
"I'm excited for these guys," Vikings manager Matt Diaz said. "They've put in a lot of work. I think of Wyatt and the other seniors who have just bought in this year, and I'm happy it worked out this way for them. It's just sheer excitement for the boys."
Everything went right for them early. Country Day left-hander Kody Daneault had some command issues, and an error led to Lakeland Christian loading the bases immediately. Daneault walked in a run before getting the first out of the inning, but a two-run single from Wyatt Jenkins proved to be the real momentum shifter early in the game. Daniel Hartley scored on a wild pitch, too.
"We had runners on second and third, so I was just thinking hit something hard and away," Jenkins said. "They were trying to live out(side) pretty much all game and I got the pitch I wanted and smoked it back up the middle."
Jefferey Henry took over for Daneault after the fourth run crossed and got out of the inning without giving up anything else. Henry's submarine delivery worked for a while, keeping the Vikings at bay for at least the second inning, but he hit two batters in the third, Spartans manager Tom Lucas went to a third arm, Trevor Bradley.
"We've got a lot of confidence in Jefferey and Trevor, but Jefferey had just pitched in the first game down here," Lucas said. "So, he had already gone, and it was so hot, we were going to limit him."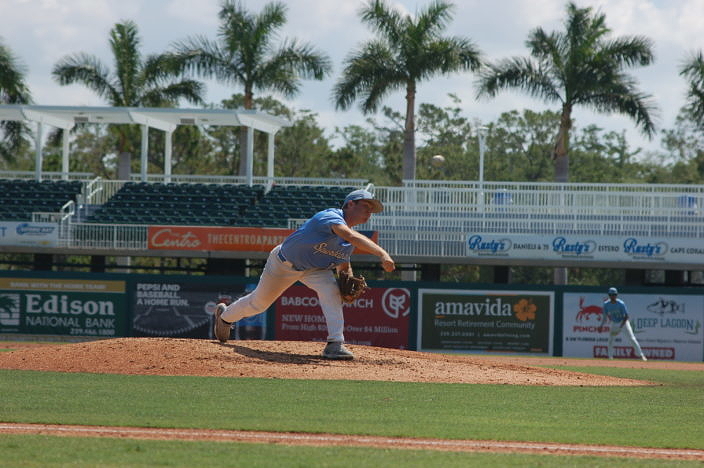 Meanwhile, Carson Martin was dealing for Lakeland Christian. The sophomore right-hander was working at a college pace, holding the ball for no more than six seconds after the batter stepped into the box. Martin gave up just one run on four hits and a walk over five innings before turning the ball over to the bullpen.
"It gets in the batter's head a lot of the time," Martin said of his rapid pace on the mound. "It helps your defense out a lot when they are just going and don't have to think too much."
Things stayed fairly quiet until the fifth, but hitting the leadoff batter burned Bradley and the Spartans. A Colby Brewington triple brought the runner in, which proved important after St. John's got on the board with a double to right field in the bottom of the frame. A tremendous throw from right fielder Trey Bentley prevented a second run from scoring.
"Carson was throwing a great game already, and he had a little trouble that inning," Bentley said. "He made a good pitch and they hit a ball to me, and I just made a really good throw to home. Mookie (Mitch Rodriguez) made a great tag to get it."
Diaz says that he's come to expect throws like that from Bentley, but it wasn't that way a year ago. Bentley spent last year on junior varsity so he could get as many reps as possible, and one thing the staff asked him to work on was arm strength. He came in throwing the hardest of anyone during tryout this year, making Diaz's decision at right field relatively easy.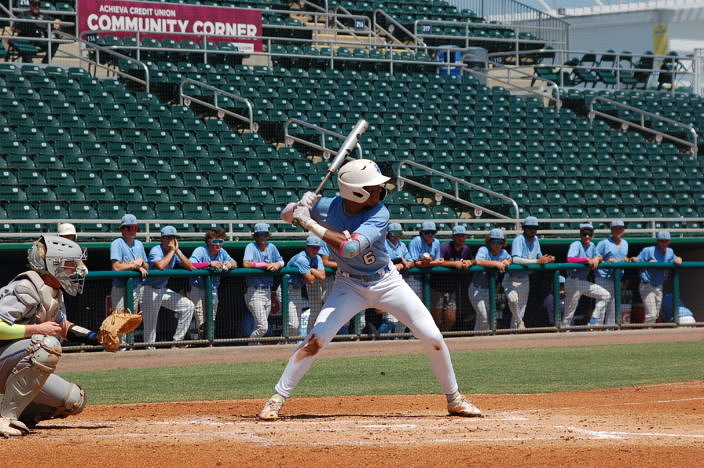 That was the turning point of the game. Country Day had finally sparked their offense and a 50-50 decision to send the second runner home proved costly. Most managers would make the same call, though, especially after being down by a crooked number for the entirety of the day.
"Those are the starts you dread, going down four," Lucas said. "But we still have a lot of offense, and so I tip my hat to that pitcher. He kept us off balance for five innings and it was too much to come back from."
Despite the final score of the game, there's little reason to be disappointed about the overall outcome of the season for St. John's Country Day. The Spartans made it this far two years ago, and returning to the state final so quickly proves that the success is systemic.
"It means a lot," senior captain Shawn Andrade said. "Our boys fought hard. Coming off two years ago, you know it's a bad feeling. Going out like this is not the best feeling, either, but I know next year they're going to work even harder and get it next year."
Nearly every Lakeland Christian player and coach took the time to mention how difficult it was to close things out against St. John's Country Day, and Lucas believes that resiliency will be this group's enduring legacy.
"The season and wins and losses won't define them," Lucas said. "They're down 4-0, a lot of teams would quit. They made them fight and earn it, and that's kind of the character of this squad all year."